About Us
Build The Best Home Possible
Build the best home possible, and do it right the first time. That's our philosophy in a nutshell.
At Main Street Homes, we use only the best materials and work with the most talented architects, designers, and tradespeople. We use a systematic process that makes the whole experience easy for our clients. We provide an on-site selections center with professional design and selections services. We include what other builders consider upgrades. And because no two families are the same, each Main Street-built home is distinctively different.
And you could say each Main Street-built home is distinctively Michigan, too, designed to complement the unique beauty, culture, and energy of this corner of the world. As a custom home builder in Michigan, our staff live and work in greater Ann Arbor, and we know you'll love coming home to this area as much as we do!
Get to know our team, and see what our clients have to say about us. Then give us a call so we can show you in person how we'll put our home building philosophy to work for you.
2019 Builder of the Year Award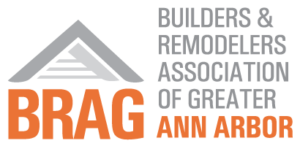 The 2019 Builder of the Year Award was presented to Joe Huczek, Founder and President of Main Street Homes, on behalf of the Builders and Remodelers Association of Greater Ann Arbor (BRAG).
Joe was recognized for his career achievements, commitment to the Ann Arbor area community, volunteer work including mentoring the next generation of builders, and his strong support for the Association over the years.
"His company is known for finely crafted custom homes that are in high demand in Dexter, Ann Arbor at Pine Ridge Estates, and beyond. Clients attest to the high level of service and care that is given to them, which comes from the value that is placed on honesty and professionalism," said Mike Mahon, President of the BRAG board of directors, in his presentation of the award.
The 2019 Builder of the Year Award was presented at BRAG's annual Pillar Awards event held at the Polo Fields Golf & Country Club in Ann Arbor.
Read Joe's bio here.